Megan Stein
1st Year, Print Media
Website
Biography
Megan Stein is an artist residing in Tiohtià:ke/Montreal, Quebec, where she is currently an MFA Candidate at Concordia University. She earned her BFA in 2013 from the University of Alberta, and was privileged to be the Printmaking Practicum at the Banff Centre for Arts and Creativity from 2016-2017.
Printmaking is a discipline that builds knowledge, experience, and images through layers, time, and repetition. Prints encourage touch and closeness. Stein's focus of research shifts between curiosity, ephemerality, absence, presence, and improvisation. Her approach to artmaking draws upon these ideas and ways of being along with personal memories, small details, and nuanced encounters. She uses repetition as both an observational and rehearsal method to find relationships between perceptions, space, in-between glimmers, and the cadence of time.
Statement
Details are obscured, information is cut away, central figures are denied. Questions are posed and then hidden. Words are both sharp and tentative while feeling-around-without-the-lights-on. This selection of work uses printmaking, searching, and writing to find synthesis between my body and the plant body while also communicating uncertainty and a level of suspicion about language-use such as "lies", "secrets" and "impairment". I am interested in coded messages, the organization of information, concealment, and upending the idea of coherency. I often focus on small details, picking apart and sitting with each nuance. My disability has enabled a sensitivity in how I perceive and form relationships between myself and my environment; shaping a specific lens through which I think about and make artwork. These (printed) works are tangible, tactile, and to be touched - qualities that are lost within the virtual realm. Though, it is my hope that the mediated view will offer another angle, a potential to pause and inspect, zoom in and pan to find details overlooked in real life.
01, 02: Silkscreened handwriting on cotton, cut into small circles and hung; obscuring the text. 01: text reads: secrets, lies, fictions. 02: selected text pulled from the heading title: "Degree of Impairment", in a book called Guidelines for Judging Roses (1971). Reads: impairment or uniqueness 03: Floral woodcut pattern printed on paper. The roses were cut away and the facing side of the paper printed with red ink was flipped against a white wall; the colour cast highlights the missing and pending information. 04: Short writings, trying to communicate with roses; anxious words. Some of these texts were written shortly after the University closed in March. When the botanic garden reopened to the public, I made a habit of visiting with a notebook to record short musings in-situ. 05: Stone lithograph, multiple prints on washi, layered and scanned. Drawn with a greasy crayon, the marks have an immediacy and richness that is often found in lithography. An oval of leaves, quickly drawn, holds an empty centre. The luminescence of the top gampi fibres tone the lower kozo sheets with a pearlescent warmth.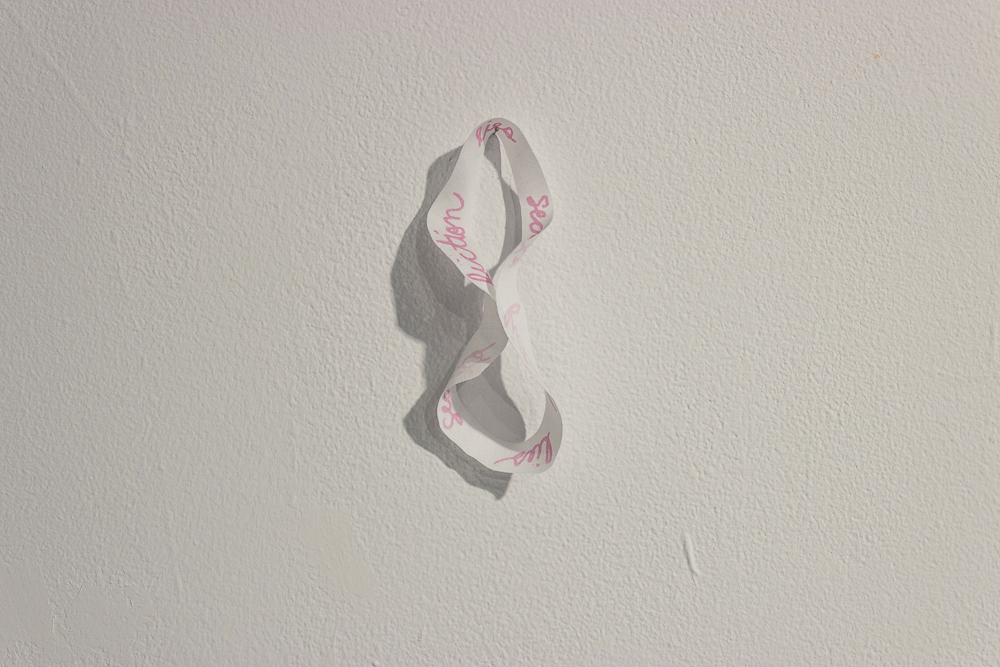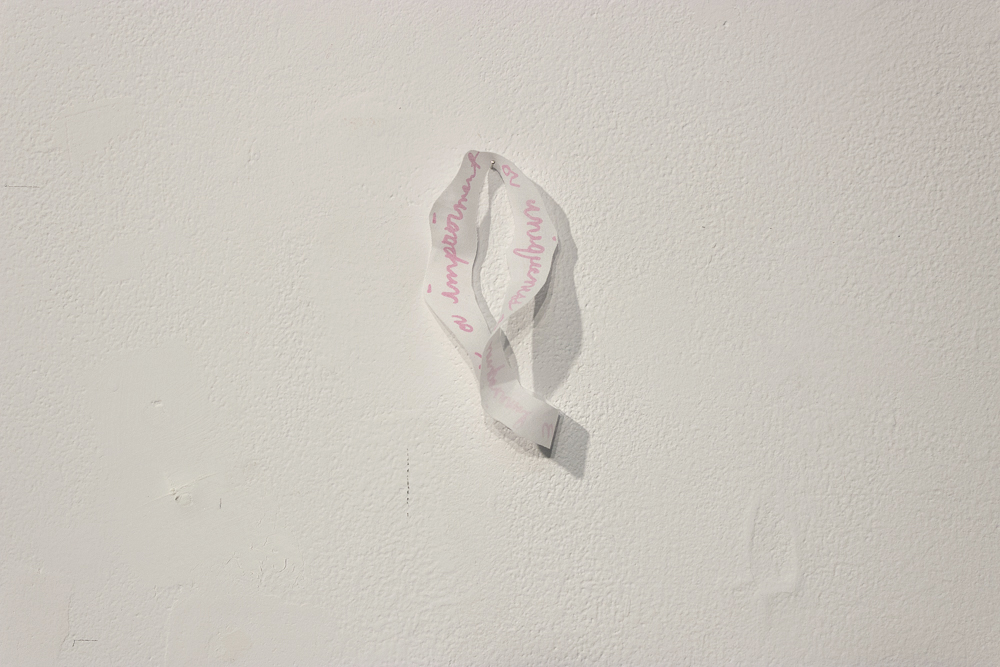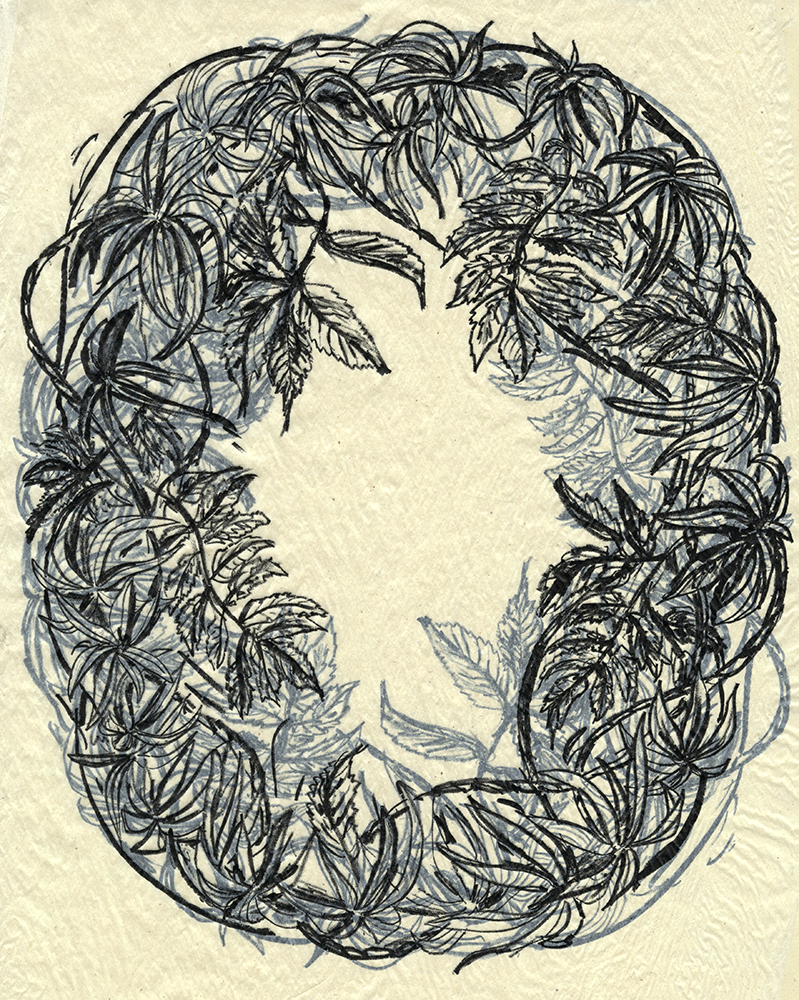 secrets, lies, fictions (2019/2020)
01, 02: 3" x 3" Silkscreen on cotton, 03: 22" x 30" woodcut, handcut paper, 04: written texts, 05: 15" x 20" Stone lithography